Hanita Coatings SolarZone Window Tints / Films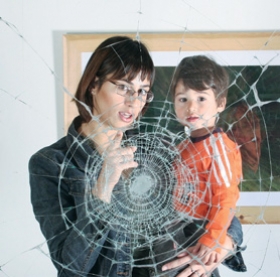 SolarZone Series
Sun Control Center carries a wide range of effective, budget-minded window tints and films from Hanita Coatings, We're proud to offer Hanita SolarZone films to homes and businesses to Fort Wayne, South Bend, Elkhart, Mishawaka, and the surrounding area.
OptiTune dual-layer tints come with a semi-reflective silver exterior and a subtle, smoky interior appearance; these tints are very effective at rejecting heat and reducing glare. These tinted films feature VLT values of 55% to 5%, meaning they can let in most visible light or keep almost all of it out; Sun Control generally stocks the films ranging from 5% to 30% VLT, and we can special-order higher VLT films.
For effective impact-resistance, we carry the PerLite range of SolarZone tinted safety films (formerly known as Cold Steel). These ceramic-based, neutral gray films combine effectively reject heat and reduce glare while providing protection from shattered glass. PerLite films are among the least expensive we carry – a good tinted film at a great price.
SolarZone Silver window tints have been around for years, and there's a good reason why: They provide very excellent heat rejection and glare reduction at a reasonable price. We carry this classic range in a variety of VLT values as well as safety film options.
If you're interesting in window tints that combine value and efficiency, Sun Control Center invites you to learn more about our Hanita SolarZone films by calling us at 1-800-662-8468. We offer free estimates, and we're proud to install both residential and commercial window tints throughout Fort Wayne, South Bend, Elkhart, Mishawaka, and for miles around.
Please call us at 800-662-8468