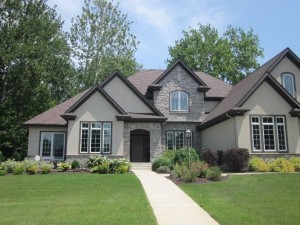 Window Tinting Solutions for Homes & Offices
Count on Sun Control Center for the best window tints in Fort Wayne, South Bend, and the surrounding area. We're a 3M Authorized Dealer & Applicator, and we offer 40 years of residential and commercial window tinting expertise.
At Sun Control Center, we do more than simply sell and install high-quality tinted window film. We help our customers save energy and money. We make homes and businesses more comfortable – managing temperatures, brightness, and glare. We improve safety and provide protection from break-ins and severe weather. And we protect expensive carpets, furnishings, and artwork from fading caused by harmful UV rays.
It's amazing, what today's window tinting can do.
Clear to lightly-tinted, Prestige rejects up to 60% of heat coming through your windows
Night Vision offers clarity, privacy, and reduced heat – without the mirroring of less advanced tints
Twenty-eight micro-layers of ultra-strong tear resistance turn windows into formidable barriers.
SolarZone delivers excellent heat rejection and glare reduction at an economical price
If you own a home or business anywhere in our No. Indiana-So. Michigan-NW Ohio service area, all the benefits of window tinting are just a phone call away. Once you learn what 3M tints can do, you'll be on the path to enjoying a safer and more comfortable space for many years to come.
Forty years in the window tinting industry means something: It means we bring great experience to every project. But more than that, it reflects a way of doing business that keeps customers coming back year after year. You can always count on us to respect you and your property, each and every time we work with you. We take great pride in going above and beyond.
Ready for the best window tinting in Fort Wayne, South Bend, Mishawaka, and Elkhart? Call Sun Control Center today!
Are you wondering if your city is located in our service area? Give us a call today at 1-800-662-8468