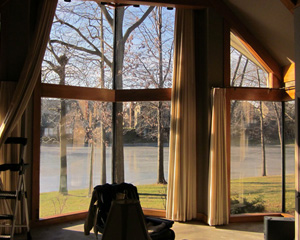 3M Window Tint Provide Clarity & Privacy
Night Vision tinted window films are another entry in a great line of advancements from 3M. They have the reflective properties of older generation tints, so they provide great heat glare reduction. They also provide some daytime privacy, yet are not as mirrored as older films. And Night Vision provides great optical clarity.
3M Night Vision films feature a unique, non-reflective inner layer that's laminated to the metal film to make a hybrid film with substantially less interior reflection at night than older mirrored films. If the exterior and interior lighting is right, this film can even afford some vision out.
Night Vision comes in varieties that allow 15%, 25%, or 35% of the natural light through your window. Our knowledgeable staff can help you choose the one that's right for you.
Sun Control Center invites you to discover why 3M Night Vision is among the most popular tinted window films that we sell – both residentially and commercially. Please call us at 1-800-662-8468 for a free estimate!
Please call us at 1-800-662-8468 for a free estimate.